Daniel Medina Insurance not only  offers insurance coverage for your auto and home policies—also for all-terrain vehicles (ATVs), utility vehicle (UTVs), dune buggies, golf carts, go-karts, trail bikes and more. 
ATV Insurance & Off-Road Vehicle Coverage
Get ATV insurance quotes from Daniel Medina Insurance and protect yourself with excellent insurance coverage for your ATV and UTV (side-by-side). With Daniel Medina Insurance ATV and UTV insurance, you can quote and customize your policy online to cover different types of risks.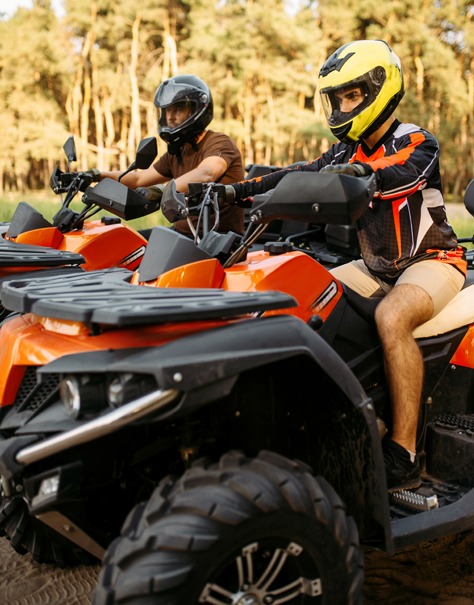 Check out a few of Daniel Medina's Insurance discounts aimed at lowering your ATV insurance cost.*Disclosure
If you've completed an approved ATV or motorcycle safety course within the past three years, you'll receive a discount on your ATV policy.
We offer discounts for things like multi-units, multi-policies, maintaining continuous coverage when you renew and for having prior off-road vehicle insurance.
Being a safe rider pays off, and you'll get a discount if you've had no accidents or motor vehicle violations in the last three years.
What does ATV/UTV insurance cover?
Don't let your adventures get cut short because you didn't get ATV insurance coverage for your ride! Your homeowners or auto policy may not adequately cover your ORV. Lucky for you, an agent can help you choose the right Daniel Medina Insurance policy for your ORV, so you can go out and enjoy the trail while someone else takes care of the paperwork!
We've got your ATV covered:
With Daniel Medina Insurance, this provides up to $1,500 in coverage for damage to any clothing designed to minimize damage from an accident, including helmets and goggles.
Optional Equipment Coverage.
We include $500 for optional equipment coverage, depending on your policy. This covers any "extras" added to your ride, including towable trailers or sleds made for use with your ORV.
If the trail is calling, you don't want to miss it. No calls, no hassle with our annual policy you can insure your ORV even in the "off-season."
Your safety is number one to us. Stay safe wherever you choose to go on your off-road vehicle.
What typical coverages are available?
Ask your agent or broker about standard coverages that are available, as well as optional ones you might consider. Standard coverages include Collision, Other Than Collision, Liability and Medical Payments. They help provide coverage for damage to your ORV itself or damage or injury that you may cause while riding your ORV.
Is my safety apparel covered?
Whether it's helmets, goggles or other clothing that helps minimize injuries from an accident, most companies will offer safety apparel coverage for when these things get damaged. We want riders to be as safe as possible while enjoying the outdoors, so we encourage wearing safety gear.
Is there optional equipment coverage available?
Most people have customized or added options to their ORVs. Optional Equipment coverage helps cover things like towable trailers, racks and winch kits for your ORV.
What kinds of discounts are available?
Everybody wants to save money. Ask what's available for you. Some companies, like Daniel Medina Insurance, offer discounts for things like multi-units, multi-policies, maintaining continuous coverage when you renew and for having prior off-road vehicle insurance.
UTV safety before you ride
Off-road vehicles refer to many different machines, including ATVs, dirt bikes, 4-wheel drive trucks, SUVs, and UTVs. In this article, we'll focus on UTV safety. They're utility-terrain vehicles, utility-task vehicles or side-by-sides. They look like a cross between an ATV and a Jeep but trust me, they don't drive like either one. Before you take one for a ride, remember these safety tips: Read More